pennythepants
Day 19 - Best TV show cast
There are a lot of good options out there, including the cast of Stranger Things, but since I've mentioned it already, today I'm going to pick the cast of
Brooklyn Nine Nine.
It's such a great cast! They are all super talented and it seems as if every single character was tailor made! And they all also play off each other brilliantly. You could stick any two characters together, no matter how random, and there would be no weird awkwardness and lack of chemistry.
Andre Braugher absolutely KILLS IT as Captain Holt. I mean, seriously. He is being 100% genuine in every single one of these.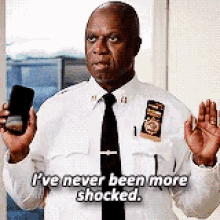 Terry Cews! Tania loves Terry! Plus, the chemistry between Andy Samberg and Melissa Fumero is off da charts.